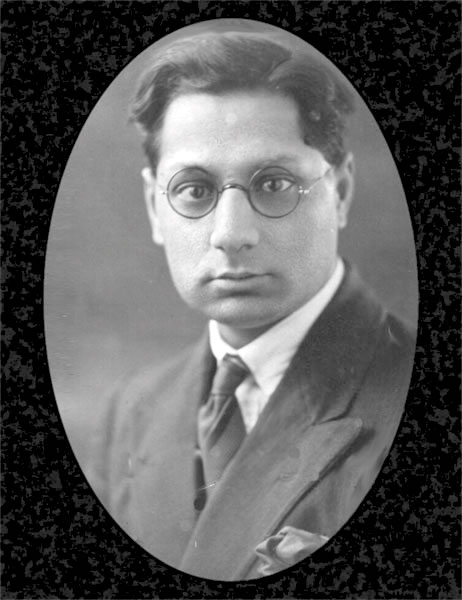 Azhar Kidvai was born in Rampur (India) on 11th April, 1900
My father, Abi is what I called him, was named Azhar Kidvai by his father (Safdar Ali). Abi was also named Khaaqaan Alam (many people had two names in the olden days), but he rarely used this name after he grew up. In Urdu his name (ازہر قدوائ) had a ز and not ظ. Why? Think of Jaamaé Al Azhar. It means another thing when you write it with ظ. In English it was spelt with a K instead of Q. Why? Because the name is Turkish. Kidvais are descendants of Kazi Kidva who was a Turkish Judge under King Baber's rule. There is no Q for ق. There's just a K. Think of Koran. Also, و is written as V in Turkish, not W. Here is an image of their full alphabet.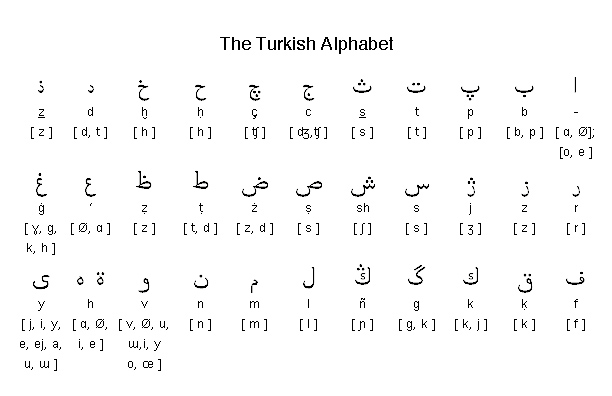 The W for و was added when Hindustani Transliteration took place … earlier than Turkish Transliteration. This changed و into a W, despite the fact that the pronunciation is that of V.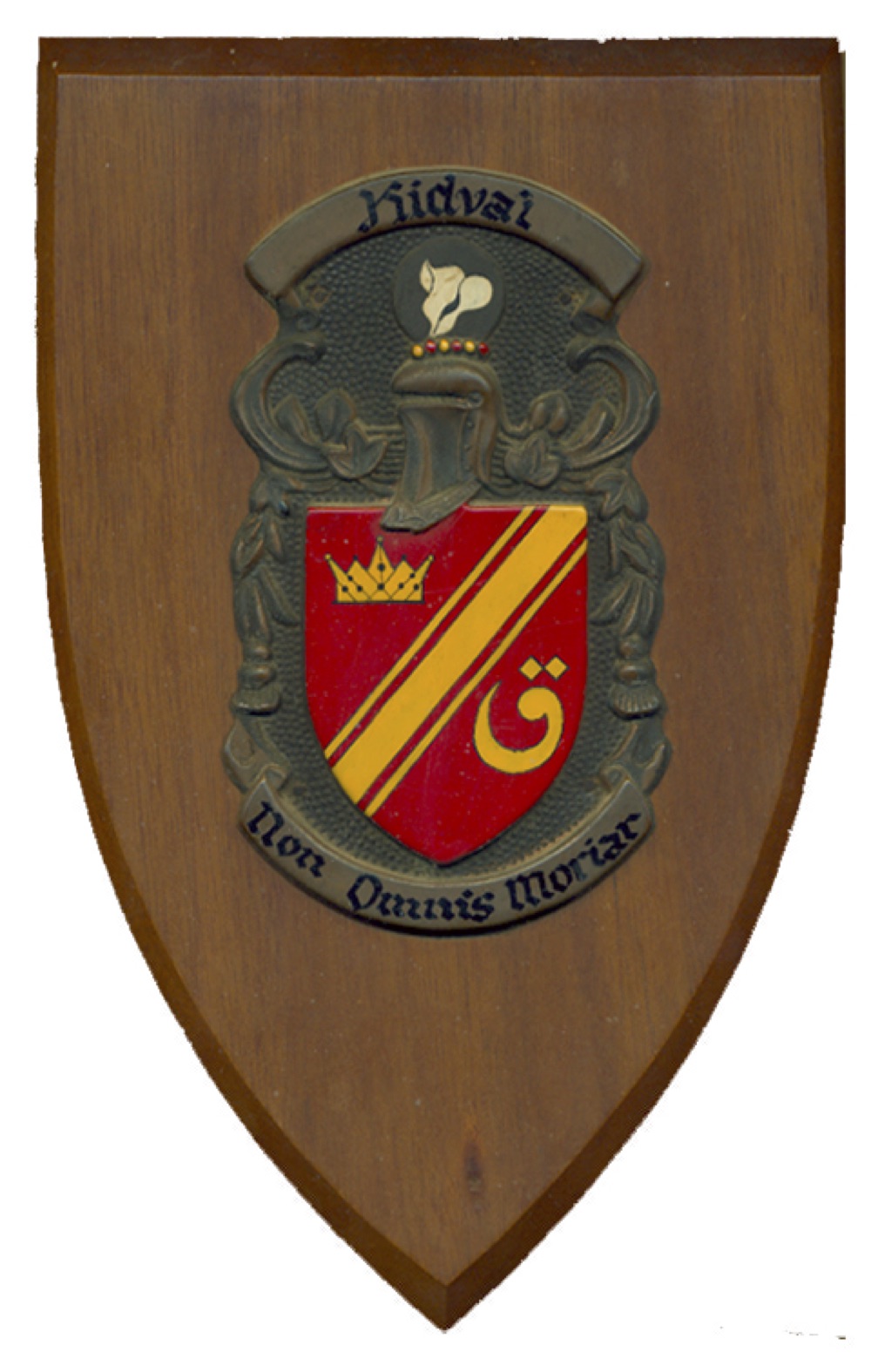 A picture from a London Collection of Family Logos.
I have this in my house now in wood and brass.
The Latin translated to English means "I shall not altogether die'.

He went to MAO (Aligarh School and College) and did a BA in English Literature. Was arrested for his political views by the Brits ruling India. Later, he became a Doctor, was a Major in the British Forces during the Second World War. He was also a poet, a writer of stories and essays, and a great lover of classical music (Indian and Western). He sang fairly well, but only among friends. He used to do a wonderful Scottish accent, after having passed his Medicine from Edinburgh. He lived and practiced in Monifieth, a small town in Scotland.
His father, Safdar Ali, did send him there but then refused to send him money, though he had a lot of it. Abi's life there was odd, because of a lack of funds. He eventually was put into hospital where one of his kidneys had to be removed. I heard this from his friends, while he was alive. I asked him and he said he would never have told me this, because it was "between me and my father". (His father died in Dacca several years after Abi's death.)
Abi was an Atheist in his early life, but eventually became a rather strong Muslim. In his last few years one could always see him with a tasbeeeh, reciting his words of faith. He said eight prayers every day: the five Farz many do, plus Tahajjüd, Chaasht, and Ishraq. The last time he prayed was only a few minutes before his death.
Despite being a strong Muslim and reading several religious books, he also read extensively in English and Urdu — Fiction and Non-Fiction. He introduced the writers to me, just as he gave me my love of music.
A strong Congress-person, he decided that we'd stay in Delhi … but our house and his clinic were burnt down so he migrated to Pakistan on a temporary basis (in 1947). Dr. Syed Mahmud (my wife Nuzhat's naana) and Pandit Jawaharlal Nehru said to him that the troubles in Pakistan would end in 5-6 months and we'd be 'good neighbours later'. These things never happened and showed how little the Congress knew what lay ahead.
Abi died at the age of 63, after several repeated heart attacks over the years, heavy diabetes, a constant ringing in his ears, occasional faintings, and – finally – a brain haemorrhage at Anklesaria Clinic, Karachi. He seemed well as I saw him, arriving in Karachi the day before from my trip. Sadly I was on duty on the ship that night/morning and did not see him pass away.
•••••
This blogpost, 52 years after his death, is to tell you of a new website 
azhar.kidvai.com
 that I have put up. It contains all that I could put together, with some pictures as the home page title.
1. A memoir of him written by his second cousin, Amina Minai (grand daughter of poet Ameer Minai). She married Kamal Mahmood, Abi's first cousin. (Thank you Mona Phupi.)
2. To find out more about him there is a collection of my previous blogposts where he is mentioned and so are his maternal and paternal families.
3. Stories that were written from 1928 onwards and were published as Nai Paod (نئ پود) in 1939, two years after he wrote his last playlet. The original cover and the inside page (Printed 1000 copies : Price Re 1), are also scanned and shown here.
These are followed by scans from his own handwriting.
(Somewhere it has not been possible to remove the paper lines.)
4. Ghazals, that were kept in a ruled booklet and named Parvaaz. 
5. Nazms, Qit'as, Rübaais – which were filed under a small folder, called Parvaaz 2.
6. Humorous or Satirical verses which Abi wrote under the takhallüs 'Shaikh Ji'. He put them in a separate collection, called Laghv Goi.
•••••
This collection is dedicated to Nuzhat, who constantly insisted that I must print Abi's works. She loved the idea that I was going to print it with scanned images as far as the poems were concerned. It is also co-dedicated to our daughter, Ragni Marea, who loved her grandfather's stories.
Sabeen loved his stories that I read out to her. I also recited a few of his verses. She had one piece on the softboard in her office. She wanted me to publish his works, specially in his own writings, under T2F's planned idea of opening up a publishing unit. That never happened.
The collection is now on the Internet
where many will be able to read it.